You are here
Choir Bus Plunges Off Ramp
(excerpt from Appeal Democrat article — May 21, 1976)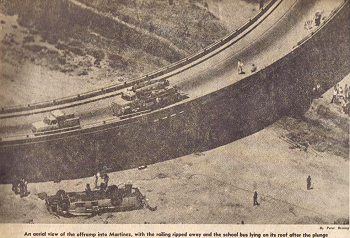 More than 25 Yuba City High School students are feared dead after a  bus loaded with a total of 57 students plunged off a freeway off—ramp  near Martinez and landed upside down about 11 a.m. today.
The names of the victims were being withheld pending notification of  next of kin. Two teachers were also on board.
The tragic accident occurred when the bus, taking the students for a  choral exchange program in Orinda, failed to negotiate the off—ramp  south of the Benicia Bridge in Martinez.
« Click photo to view larger image
Witnesses said the bus crashed through 50 feet of guard rail, then  rolled down a 30-foot embankment landing on its top.
There was no immediate word on who was on board the bus, said to be  carrying a total of 57 including teacher Cris Estabrook and Elaine  Parrish.
The bus was being driven by Evan Prothero...a longtime driver for  the bus company. The bus had a capacity of 79 persons.
Seven students reportedly were taken to the Contra Costa County  Hospital, one of whom reportedly died enroute. Another seven  students were taken to Mt. Diablo Hospital.
Witnesses told reporters that two of the students were ejected from  the bus on impact and another crawled out of the twisted wreck on his  own.
More than an hour after the crash, 45 persons were said to still be  trapped. Firemen were attempting to cut through the bottom and sides  of the bus to reach the victims.   A huge crane was on the scene attempting to lift the crushed bus up  so rescue workers could reach the students, but witnesses said the  initial efforts with the crane were not working.
Rescue workers said they could see the bodies of at least six  persons in the front of the bus. Dozens of crying, injured students  remained trapped towards the back of the vehicle owned by Herb Brown  — Student Transportation Services.
More than 15 ambulances ferried the dead and injured to hospitals in  Martinez, Vallejo and Concord and a team of doctors, nurses and  paramedics were dispatched to the scene from the Contra Costa County  Hospital in Martinez.
One survivor told reporters that the bus was leaving Highway 680 for  a rest stop in Martinez when the tragedy occurred.  
A helicopter was hovering over the scene to take some of the more  badly injured to the John Muir Hospital in Walnut Creek.
The accident occurred just at the southern foot of the Benicia  Bridge on a horseshoe-shape off—ramp.
The off—ramp was immediately closed off, but the crash attracted  hundreds of persons which hampered rescue efforts.
The bus was reportedly 10 minutes from its Orinda destination where  a noon choral program was scheduled at Miramonte High School, but the  group planned to stop for refreshments before going on.