You are here
Tom Randolph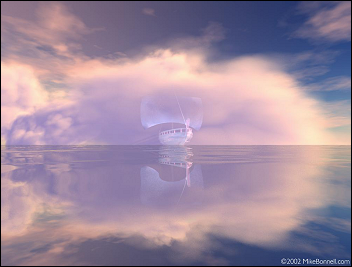 Music: Into-The-West.mp3 by Annie Lennox
Pippin: "I didn't think it would end this way."
Gandalf: "End? No, the journey doesn't end here. Death is just another path - One that we all must take.
The grey rain curtain swelled, Rolls back, and all turns to silver glass. And then you see it..."
Pippin: "What, Gandalf, see what?"
Gandalf: "White shores and beyond...? A far green country And to a swift sunrise."
Pippin: "Well, that isn't so bad?"
Gandalf: "No...no, it isn't."
"On the ramparts of Minas Tirith"
The Lord of the Rings, The Return of the King
J. R. R. Tolkein, c. 1937 - present
---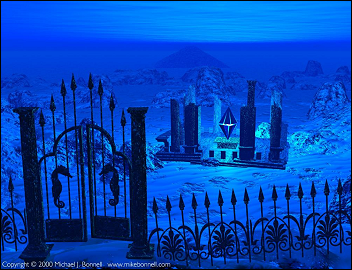 "Earendil was a mariner who tarried in Avernien;
He built a boat of timber felled in Nimbrethil to journey in;
Her sails he wove of silver fair, Of silver were her lanterns made;
Her prow was fashioned like a swan, And light upon her banners laid."
"Bilbo Recites In Rivendell"
The Lord of the Rings
The Fellowship of the Ring
J. R. R. Tolkein
c. 1937 - present
---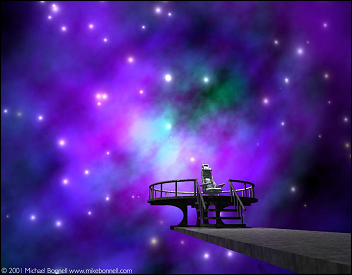 There was a boy...
And he once came so close to death That Life lost part of its hold on him.
He was suspended between Life and Death: He knew both...and he could touch the sun.
But now, because he was different, Whenever he reached out his hand No one would take it. 
Instead They would say things like "You must come down to us first" or "You must be like us first."
So he stayed where he was...and The wind from the stars soothed his mind. Yet he continued to reach out...
And upon a time, when he was reaching out, Someone did take his hand. He lifted her up to show her The Sun and the Stars, But she didn't understand.
It wasn't that she couldn't understand Or might not understand one day... She just didn't so he Put her down and she went away.
He turned to the stars for Comfort, but they were cold... He turned to the sun for warmth, But now he saw its brightness.
In his despair, she came back... For she had missed the sun.
And when she held out her hand, he Took it... though he did not lift her up this time.
Instead, with his free hand, he took hold Of the sun and pulled with all his being.
When he stepped down to her And felt the earth beneath his feet  He had a piece of the sun with him.
And he felt whole after what had seemed an Eternity of being between Life and Death.
He gave up his life among the stars And his friendship with the sun -
A life and a friendship he valued Above all things...except his love For God...and his love for her.
And if you wonder if this story is true: Seek for the answers in your dreams.
- Tom's wedding vows
August 9, 1980
---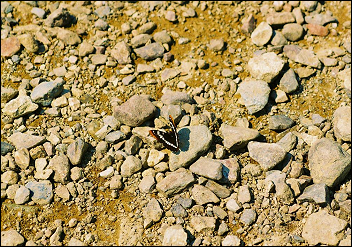 "I think I understand:
Fear is like a wilderland -
Stepping stones...
Or sinking sand."
- Joanie Mitchell
1966